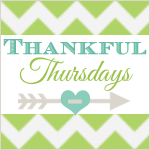 I have so much to be thankful for this week!
My rash is GONE GONE GONE! Woohoo. No more itching and no more feeling awful. Only about 2 weeks left of steroids too.
That my Mom is healing well! I'm so glad she didn't hurt herself any worse than she did and I'm so very thankful that her prognosis is good.
That I've been in the cooking mood lately. I can't wait to try even more new recipes this weekend.
That it's already Thursday. SO ready for another weekend and to sleep in. I have plans to head out to a Wooden Boat show in town and maybe a wine festival!
For encouragement from friends, new and old.
That as of yesterday I am officially down 25 pounds!
What are you thankful for this week friends?