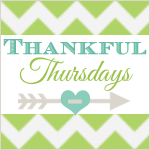 I'm linking up for Thankful Thursdays today!
Last night I got a call that my Mom had fallen down the stairs at home.
Poor thing was in so much pain that no one could touch her. They had to call an ambulance to pick her up.
Turns out when she fell off the top step! She dislocated her shoulder, broke her humerus, has a fracture and a sprain in her ankle, and the rest of her looks pretty bruised and broken. I have pictures but I know for sure she'd kill me if I shared :)
THANKFULLY! Her injuries aren't worse. No surgeries needed and nothing that will cause permanent damage, at least from what the doctors have said so far.
She has an appointment with two specialists today. If you can send thoughts or prayers for healing and that the doctors today agree no surgeries needed.
The rest of my thankfulness today revolves around the fact that I can: go to the bathroom myself, dress myself, sleep normal, and go to work. All things that my Mom can't do for the next 2 months or so. It's a real wake up call to be thankful for the little things in life that we take for granted but can be taken away from us in the blink of an eye!