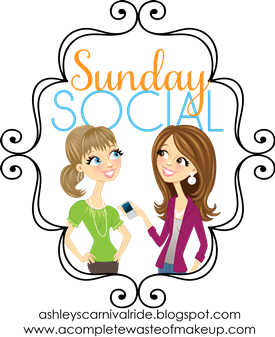 I'm linking up for another Sunday Social this week! And it's all about fashion. Which is funny because I'm not really all about fashion at all, but I do like to shop :)
What is your favorite store to shop at?
Target. No competition really, and our new one opens next week (at least I think it does, haha)
, woohoo!
If you could afford anything and everything, which designer brand would you covet?
To be honest, I don't know. I'm not crazy over fashion. I do know I could put a large dent in Target's supply if I could spend as much money as I wanted to! ;)
Must have closet staple?
Dressy jeans and t-shirts. I love a pair of dark wash jeans with a t-shirt. Easily dressed up or down. It might be my uniform for most of the year, haha.
Favorite kind of shoes? (brand or type)
These are really random but Bear Traps. I usually find them places like Kohls or Shoe Carnival. They are so comfortable. I have 2 pairs of dress shoes and 2 pair of clogs. I could walk in them all day, and still feel like I was walking on air.
I also love flip flops. But, my heels aren't the biggest fans. Which means I have to alternate real shoes with flip flops. My heels appreciate it greatly!
Best clothing deal you've ever gotten? (sale or amazing find)
I'm not a real trendy shopper but I did last fall get 2 pairs of jeans and a pair of black capris for $12 at jcpenny's. That was pretty awesome!
Style you'd love to try?
This is going to sound really crazy but sometimes I wonder what it's like to work somewhere with a dress code. I work in the marine science field and even though I'm in an office all day, it is always casual Friday around here. No one really dresses up ever, except for when we have meetings and even then it's still very business casual (and yes we have some people show up to the meetings in shorts and flip flops, they're marine scientists, what do you expect?)
Often I wonder what it would be like to wear dress pants and shoes and wear jewelry to work every day, haha. I'm sure those of you who have to do it are saying no you don't want to know! But, really i do, just a little ;) I'm sure by day 3 I would be begging to have my jeans back though!